Choosing a doctor isn't the same as finding a restaurant for dinner or looking up the nearest dry cleaners, especially in an emergency. From this situation, BD Doctor List is an online medical website providing online counseling services to patients via the Internet.
If you want to connect with a specialist doctor focusing on ibn Sina Dhanmondi doctors list includes dentist health, Gastroenterology, Cardiology, endodontics, or any other specialty. Then you are in the right place.
That's why BD Doctor List gives you a complete picture of Bangladesh Specialized Hospital doctors' qualifications, which contains all the information about that doctor.
Bangladesh Specialized Hospital Contact Numbers
If you are a resident of the Mirpur area then you can ask to get the Bangladesh Specialized Hospital contact number. Because for any treatment you will need an appointment with a general practitioner, you take certain services or you go to the emergency room. You may choose to contact a doctor personally. However, the hospital authorities will help you to choose the right doctor for you, they will probably refer you to the doctor who will prescribe you according to your need.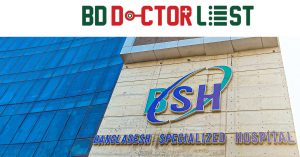 Address: 21 Shyamoli, Mirpur Road, Dhaka-1207, Bangladesh
Contact: 10633, +8809666700100
E-mail: advice@bshl.com.bd, info@bshl.com.bd
Google Map  Link: https://goo.gl/maps/TQ4qHqbDv25F68p99
Bangladesh Specialized Hospital Doctors List 
Currently, you prefer to contact your desired doctor directly, a doctor will be able to give you the answers you need over the phone and you may need to come to the doctor if you need to be diagnosed and adjusted in your treatment/therapy. So here is a detailed list of their contact numbers.
| | | | |
| --- | --- | --- | --- |
| Doctor | Specialty | Designation | Degree |
| Dr. Ujjal Ghos | Medicine | Consultant | MBBS, FCPS, |
| Prof. Dr. Hosen Ara Baby | Gynecology | Consultant | MBBS, FCPS, |
| Dr. Masuma Jalil | Gynecology | Consultant | MBBS, FCPS, |
| Dr. Mahabuba Nargis | Gynecology | Consultant | MBBS, FCPS, MCPS |
| Dr. Jebun Nahar | Gynecology | Consultant | MBBS, MCPS, |
| Dr. Shamima Nargis | Gynecology | Consultant | MBBS, FCPS, MCPS |
| Dr. Mohammad Murtuza Khayer | Medicine | Consultant | MBBS, MCPS, MD |
| Dr. Kazi Nowshin-Un-Nabi | Pediatric | Consultant | MBBS, FRCP, MRCP |
| Brig. Gen. Prof. Nurun Nahar Fatema | Pediatric | Consultant | MBBS, FCPS, FRCP |
| Dr. Mouhammad Towfiq | Pediatric | Consultant | MBBS, MD, |
| Dr. Ishrat Jahan Lucky | Pediatric | Professor | MBBS, FCPS, MD |
| Dr. Md. Khaled Mohsin | Cardiology | Professor | MBBS, MRCP, MD |
| Dr. Mohammad Ullah Firoz | Cardiology | Consultant | MBBS, FCPS, MD |
| Dr. Sudhakar Sarkar | Cardiology | Consultant | MBBS, MD, D-Card |
| Prof. Brig. Gen. Mamun Mustafi | Nephrology | Consultant | MBBS, MACP, FCPS |
| Dr. Md. Abdul Wahab Khan | Nephrology | Consultant | MBBS, MD, |
| Prof. Dr. Md. Sohaidul Islam | Medicine | Consultant | MBBS, FCPS, |
| Dr. Mohiuddin Ahmed | Medicine | Consultant | MBBS, FCPS, |
| Dr. Ariful Basar | Medicine | Consultant | MBBS, FCPS, |
| Dr. Md. Sowkat Ali | Cardiology | Consultant | MBBS, FCPS, MS |
| Dr. Khalifa Mahmud Tarik | Cardiology | Consultant | MBBS, MS, |
| Prof. Dr. Sayed Ahmed Siddique | Plastic Surgery | Consultant | MBBS, FCPS, FACS |
| Dr. Patuwary Mohammad Faruk | Neurosurgery | Consultant | MBBS, FCPS, Fellow |
| Dr. Ahamed Zahid Hossain | Pediatric Surgery | Consultant | MBBS, MS, Fellow |
| Dr. Mohammad Sahariar Foysal | Colorectal | Consultant | MBBS, FCPS, FACS |
| Dr. Md. Saohidul Islam | Colorectal | Consultant | MBBS, MS, |
| Prof. Dr. Tapos Kuman Pal | Medical Oncology | Consultant | MBBS, FCPS, MS |
| Dr. Md. Abu Toha | Dental | Consultant | BDS, PhD, |
| Dr. NIshat Jaman | Dental | Surgeon | BDS, , |
| Dr. M Moinul Hafiz | ENT | Consultant | MBBS, FCPS, MS |
| Dr. Dewan M Hasan | ENT | Consultant | MBBS, , |
| Dr. A R M Nuruzzaman | ICU | Consultant | MBBS, MRCP, |
| Dr. Kazi Sami Saleh Abdullah | ICU | Junior Consultant | MBBS, FCPS, |
| Dr. Uzzal Ghos | ICU | Junior Consultant | MBBS, FCPS, |
| Dr. Md. Javeda Rashid | Orthopedic | Consultant | MBBS, MS, |
| Dr. Sayem Hossen | Urology | Consultant | MBBS, MS, |
| Prof. Dr. M A Arefin | Gastroenterology | Consultant | MBBS, FCPS, |
| Dr. K. M. J Jaki | Medicine | Consultant | MBBS, MD, |
| Prof. Dr. Rokon Uddin | Dermatology | Consultant | MBBS, DDV, |
| Prof. Dr. Mahmud Chowdhury | Dermatology | Consultant | MBBS, DDV, MCPS |
| Dr. Riaz Uddin Ahmmed | Dermatology | Professor | MBBS, DDV, |
| Dr. Farzana Akhter | Dermatology | Consultant | MBBS, DDV, |
| Prof. Dr. Mahamudul Haque | Diabetes | Consultant | MBBS, MD, |
| Dr. Md. Jahangir Alam | Diabetes | Consultant | MBBS, MD, |
| Prof. Dr. Kamruzzaman Chowdhury | Medical Oncology | Consultant | MBBS, FCPS, DMRT |
| Dr. Arifur Rahman Sajal | Medical Oncology | Associate Professor | MBBS, FCPS, |
| Prof. Dr. A N Nasimuddin Ahmed | Medicine | Consultant | MBBS, FCPS, M.Phil |
| Prof. Dr. Md. Shariful Alam Jilani | Medicine | Consultant | MBBS, M.Phil, PhD |
| Prof. Mousumi Sen | Medicine | Consultant | MBBS, M.Phil, |
| Dr. Sharmin Jahan | Medicine | Consultant | MBBS, DDV, |
| Dr. Samsul Alam | Medicine | Consultant | MBBS, DA, |
| Prof. Dr. Kamal Ibrahim | Medicine | Consultant | MBBS, FCPS, |
| Dr. Md. Iqbal | Medicine | Consultant | MBBS, MCPS, DA |
| Dr. M M Sahidur Rahman | Medicine | Consultant | MBBS, MCPS, DA |
| Dr. Nirjhorini Jorder | Medicine | Consultant | MBBS, , |
| Prof. Brig. Gen. Dr. S M A Al-Muied | Radiation Therapist | Consultant | MBBS, MCPS, FCPS |
| Dr. Sabrina KU. Rashid | Radiation Therapist | Consultant | MBBS, PhD, Fellow |
| Dr. Halima Banu | Radiation Therapist | Consultant | MBBS, FCGP, |
| Dr. Sharmin Akter Rupa | Radiation Therapist | Consultant | MBBS, FCPS, M.Phil |
| Dr. Savera Tarofder | Radiation Therapist | Consultant | MBBS, M.Phil, |
| Dr. Durga Debi Sarkar | Radiation Therapist | Consultant | MBBS, MD, |
| Dr. Sofaira Sadek | Radiation Therapist | Consultant | MBBS, M.Phil, |
| | | | |
Final words
When looking for the expected treatment, you want a doctor with proven expertise in your treatment. BD Doctor List basically guides you in that direction and puts you in touch with the best doctors in Bangladesh. This is our effort so that you can easily find skilled doctors in your specific area. Here is Bangladesh Specialized Hospital Doctors List, which is a definite and categorical list