Choosing a doctor isn't the same as finding a restaurant for dinner or looking up the nearest dry cleaners, especially in an emergency. From this situation, BD Doctor List is an online medical website providing online counseling services to patients via the Internet.
If you want to connect with a specialist doctor focusing on Central Police Hospital, Rajarbag doctors Then you are in the right place.
That's why BD Doctor List gives you a complete picture of Central Police Hospital, Rajarbag doctor's qualifications, which contains all the information about what do
Central Police Hospital, Rajarbag  Contact Number
If you are a resident of the Rajarbag or Paltan area then you can ask to get Central Police Hospital, Rajarbag contact number. Because for any treatment you will need an appointment with a general practitioner, you take certain services or you go to the emergency room. You may choose to contact a doctor personally. However the hospital authorities will help you to choose the right doctor for you, they will probably refer you to the doctor who will prescribe you according to your need.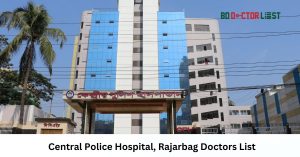 Address: 2, Rajarbag, Dhaka.
Contact: 02-8312075,01796-500117.
Email: dir_cph@police.gov.bd
Central Police Hospital Doctors List
Currently, you prefer to contact your desired doctor directly, a doctor will be able to give you the answers you need over the phone and you may need to come to the doctor if you need to be diagnosed and adjusted in your treatment/therapy. So here is a detailed list of their contact numbers.
| | | | |
| --- | --- | --- | --- |
| Doctor | Specialty | Designation | Degree |
| Dr. Sabira Rahman | Child Specialist | Consultant | MBBS, BCS, FCPS |
| Dr, Shiekh Borhan Uddin | Orthopedic | Consultant | MBBS, MS, |
| Dr. Khaled Mohammad Iqbal | Cardiology | Consultant | MBBS, MD, |
| Dr. Rafia Sultana | Gynecology | Consultant | MBBS, BCS, MCPS |
| Dr. A. K. Sen | General Surgeon | Consultant | MBBS, BCS, FCPS |
| Dr. Md. Emdadul Haq Mridha | Diabetes | Consultant | MBBS, , |
| Dr. Rubayet Siraj | Chest | Consultant | MBBS, DTCD, |
Final words
When looking for the expected treatment, you want a doctor with proven expertise in your treatment. BD Doctor List basically guides you in that direction and puts you in touch with the best doctors in Bangladesh. This is our effort so that you can easily find skilled doctors in your specific area. Here is Central Police Hospital, Rajarbag Doctors List, which is a definite and categorical list.