Choosing a specialist is one of the most important decisions for your health. If you are looking in your area of GULSHAN for United Hospital Neurosurgery  , you will want a list that will give you only the best Neurosurgery   of United Hospital . Although United Hospital is a hospital with the best and most skilled doctors in various departments, you do not want to get lost in them all. So here is United Hospital Neurosurgery doctors list, which helps you to hold the hand of a skilled doctor.
United Hospital Neurosurgery Doctor's List /Contact Numbers
Nowadays you want to get everything online, even for medical advice you feel comfortable contacting online doctors. If you are someone who wants to get a list of doctors in your area sitting at home, the list is here for you United Hospital Neurosurgery  contact numbers which provides a detailed contact list.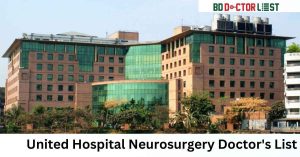 | | | | |
| --- | --- | --- | --- |
| Doctor | Specialty | Designation | Degree |
| Dr. Syed Sayed Ahmed | Neurosurgery | Senior Consultant | MBBS, FRCS, |
| Dr. M Al Amin Salek | Neurosurgery | Consultant | MBBS, MCPS, FCPS |
| Dr. Saif Ul Haque | Neurosurgery | Associate Consultant | MBBS, MRCS, |
| Dr. Md. Nurul Akhter | Neurosurgery | Clinical Assistant | MBBS, , |
| Dr. Sourov Chowdhury | Neurosurgery | Clinical Assistant | MBBS, , |
Final Words
Here we have tried the best United Hospital Neurosurgery doctor list, who are skilled, professional, and experienced in their profession. We make sure to include a list of doctors who are proven to be the best for you. Here is a list of Nephrology only so that you can view the list more easily and systematically.